This is a the ultimate social media marketing guide for small businesses.
Social media has become a huge part of our lives and the 21st century. Being popular since the early 2000s, it's grown from being used only as a social networking platform by young millennials to being one of the most influential media leveraged by millions of businesses. 
With the growth of Social media, it's not surprising to know that more than one-third of the world population is on at least one Social media platform, making about 3.5 billion users worldwide. 
The growth of social media is not slowing down anytime soon. Social media has become so integral to our daily lives, that more and more people begin to embrace social media platforms. Think of the last time you woke up in the morning or got home from work. It wouldn't surprise me to know that you quickly swiped across to see the last thing on your feed. 
It's so immersive that sometimes we tend to forget how immersive it is. More businesses are beginning to understand that social media cannot be overlooked, especially not in the era of Culture marketing. We live in a Social Media Era, where content influences the actions and decisions of millions of people. 
People are constantly in need to be educated, entertained or both. According to the report taken in April this year, 1.4 million users joined social media every single day in the past year. 
Who is this guide meant for?
Knowing that Social media is a powerful tool is one thing. Understanding how it works, what works for each platform is another. This guide is meant for: 
Personal brands: If you're an influencer, or trying to develop a lasting career as an influencer. Or maybe you want to grow a personal brand educating people on subjects you're passionate about. 
Social media executives: Managing a small business or corporate enterprise, you have plans of improving marketing. 
Small business owner: You've heard all the buzz about how important social media marketing is but somehow it flies over your head, or maybe you need to increase the effectiveness of your current marketing strategy. 
If any of these sounds like you, then let's dive right in.
Table of Content
What is social media marketing?

Pillars of Social media marketing 

Social media strategy

How to create a social media strategy 

Content creation 

Planning & Scheduling content

Promoting content 

How to start Social media marketing for small businesses 
What is Social Media Marketing?
Social media marketing is the use of social media platforms to promote your brand to your audiences, its products, services cohesively and consistently so that they can take the desired action. 
Unlike popular belief, social media surpasses only networking sites such as (Instagram, Facebook, Snapchat). Social media marketing involves the use of different platforms, creating strategies that target a particular audience, content creation, promotion and retention.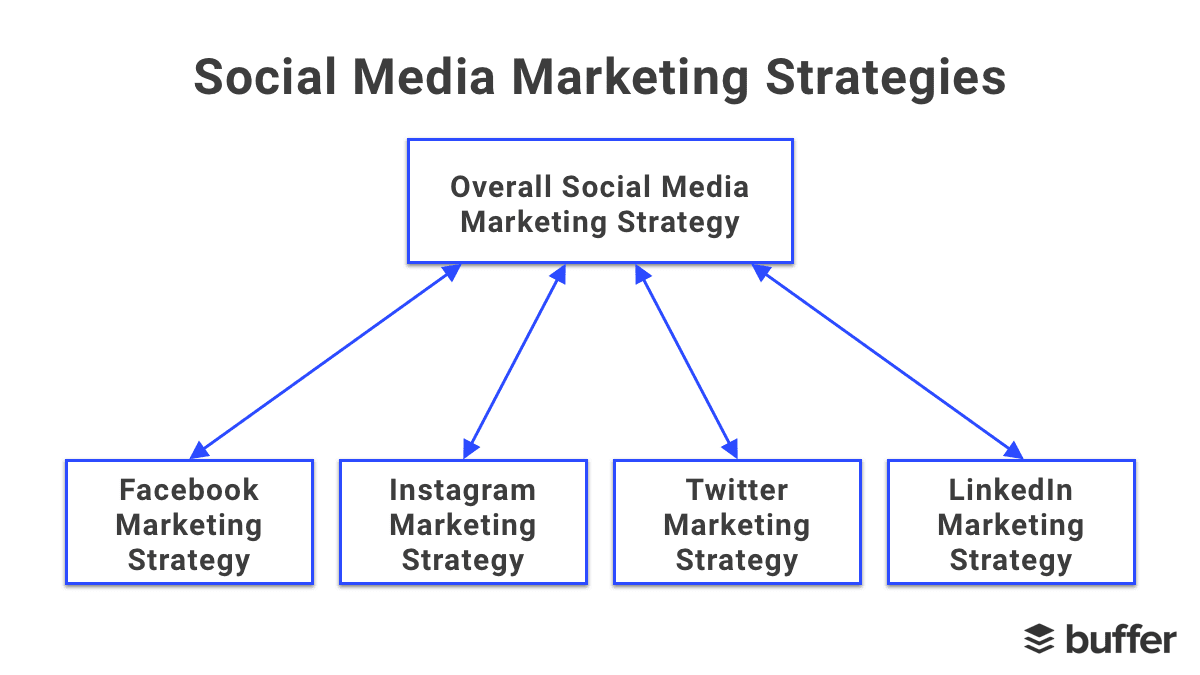 To effectively market on social media, you need to understand the pillars and how best to utilize your brand. 
Pillars of Social Media Marketing
1. Social media strategy: 
This is a comprehensive document that is an outline of the objectives of your brand, how those objectives will be executed, the goals to be accomplished and metrics that can measure either successes or failures. 
Social media strategy doesn't have to be an overwhelming document with so much information. So long as it is an outline of the important aspects that would push your social media goals forward, then it works. 
Social media strategy should not come as an afterthought but one that should be planned out from the research phase to the execution.
Importance of Social media Strategy
Improve Sales of products and services

Increases brand awareness and brand recall. 

Increases brand loyalty 

Creates an immersive customer experience. 

Build engagement and brand advocacy
How to create a social media strategy
Outlining what your strategy would be starting from an assessment of where you are as a brand currently. For example, you own a bakery shop and you already have an existing social media presence, but there's a need for you to reach more customers and create awareness about your delicious goods. 
Step 1: Analyze your current progress
Analyzing your current progress is the step to creating a strategy. This includes  a breakdown of:
Current number of following 

Engagement rates 

Number of conversions via social media promotions

Performance of organic and paid promotions

Awareness level within close-knitted circles 

Brand affinity i.e. Number of loyal/repeat customers 
This breakdown helps you define in concrete numbers how your brand is performing. 
Step 2: Create SMART Goals that align with your business objectives. 
Your goals should always align with what your business objectives are and what you aim to accomplish. Smart goals must be: 
Specific: Your goals must clear, concise and target an aspect that needs improvement. 

For example:

Reaching 5000 new audiences by the end of 5 weeks with a conversion rate of 10%.  

Measurable: There's no way of telling if you can accomplish any goal if they can't be measured. Using numbers when setting goals is too important to be ignored. 

Attainable: This defines how the goals can be achieved. 

For example:

By running paid ads on Instagram every week, we will reach 5000 new audiences by the end of 5 weeks with a conversion rate of 10%.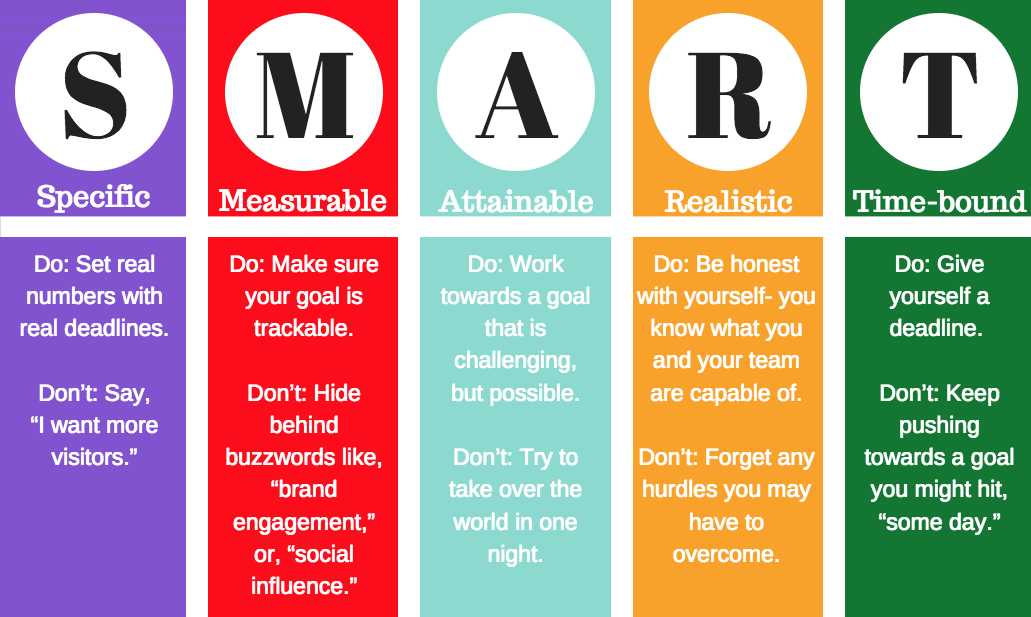 Tip: Attainable Goals are more likely to be reached than those which are not. 
Relevant: Are your goals relevant to what your business objectives are? 

For example, if your objective is to increase conversion from already existing audiences, then it would be pointless to divert 80% of your attention to attracting new audiences.
Relevant goals must be realistic and resourced. To convert an already existing audience, the course of action would be to concentrate efforts on messaging and resources that retain your audiences or influence them to take action.
Timely: Goals should also have time constraints to help you track your progress and see where you're falling short.

For example:

In three months, we should increase our conversion rate to 30% from its current rate. 
Tip: Objectives and goals should always be SMART. 
Step 3: Set Relevant Metrics that align with objectives and goals. 
It's easy to get carried away by vanity metrics such as likes and numbers of followers. However, these metrics hardly tell if you are making any progress. 
Objectives 

Goals 

Metrics 

Expand the brand's reach and gain brand stickiness in the minds of my customers 

Awareness 

(Increases your chances of being seen by as many people as possible)

Number of views, followers, number of likes, number of shares, etc

Increase relevant conversations around the brand and turn customers into advocates.

Engagement 

(Helps you understand the quality of your content and if it relatable to your audience)

Number of comments, number of pinned or saved posts, number of shares or mentions, etc. 

Increase sales

Conversion 

(Measures the effectiveness of the engagement and give you insight if there should be improvements or adjustments)

Website click, email signup, podcast signup, purchase from cart, etc. 

Increase customer loyalty

Retention 

(Measures the number of repeat customers because of how your brand makes them feel based on interaction and customer experience)

User-generated content(UGC), testimonials, 
Step 4: Conduct Research 
The third step is research. This consists of researching what your competitors are currently doing as well as researching your audiences. 
In-depth research helps you identify the loopholes, successes, and failures of your competitors. It also gives an understanding of the kind of content that appeals to your target audience. In essence, it helps with content creation in a way that convinces and converts. 
2. Content creation
This is the process of developing content that interests, excites, or educates your target intending to persuade, convincing them to take the desired action. 
Content creation for social media is unique for the different social media platforms. The content that appeals to users on LinkedIn might not be the same for Instagram users. The same goes for TikTok, Pinterest, YouTube and other popular platforms. 
3. Planning & Scheduling Content 
Content creation doesn't end at that stage. Thanks to hundreds of different brilliant tools, you can now easily schedule content for different media platforms. This helps especially when you're managing spectating accounts all at once. 
Tools such as Buffer, Trello, CoSchedule are some popular tools for scheduling content. 
Why Are Scheduling Tools important?
Manage different accounts from the same platform. 

Schedule content at different times of the day. 

Automate your marketing, which makes posting content less of a burden. 

Never miss a day even when you're unavailable or on a busy schedule. 
4. Promotion 
No matter how great your content is, it cannot be found if you don't promote it, and promote it effectively. 
There are several ways to promote content especially after using the right promotion tactics, strategies and tools.  
Also, the promotion also requires optimizing content to reach as many people as possible with the right keywords, call to action, and using methods such as A/B testing. 
Promotion can either be organic or paid. As the name implies, the first refers to content that organically gains traction by appealing to audiences. This usually involves using Search Engine Optimization(SEO) tactics, viral content,  scaling content through the number of shares. 
The latter refers to content that is paid for. It involves using tools such as Search Engine Marketing (SEM), which involves Google and Bing ads, paid promotion on social media platforms such as Facebook, Instagram, YouTube, etc. 
How to get started with Social media marketing for small businesses. 
Now that you've understood the pillars of social media marketing, the next step is implementing. 
Because each social media platform is unique, each user expects different things from each of them.  Understanding how each platform works increases your chances of success. 
Here are guides to get you started. 
Conclusion: 
Marketing is no longer a two-dimensional endeavor whereby the customer simply accepts products or services at the first glance. 
Customers now demand unique experiences to convince them to stay loyal to a brand.
This Social media marketing guide will enables your brand to get closer to your audiences in a personal way more effectively than ever before.